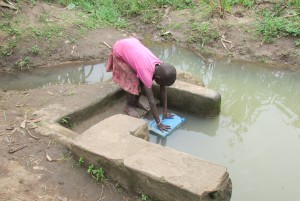 We met four year old Lamula while in a thick jungle at the bottom of a valley in Uganda. She was in a tattered pink dress kneeling over a dirty pond, collecting dirty water in a small Jerry can for her family. She was a little startled to see us. Nine white people with a large video camera in a rural part of Uganda that rarely sees white people. We were joined on our journey to the pond by other village children, curiously following our moves, and occasionally giggling "Bye Mazungo", their greeting which we were told roughly translates to "Hello, soft white person".
We were visiting Lamula's village of Bhumbu to drill a new Jesse well. She captured our hearts from the start. She has this sweet, but unsure smile that at times can turn into a sly grin. She seemed curious as to why we would be following her on her daily chore. As she carried her much too heavy Jerry can home, we saw a small glimpse into the lives of so many children in Uganda. They travel a similar path down a deep valley 3 or 4 times each day to collect dirty, heavy water for their families. Often, this burden may fall upon the young girls which means they often cannot attend school.
It seems now we must have been fated to meet Lamula at the well. Unknowingly, I had met her father the day before. Mike Thompson from News 8 was traveling with us to share the story of the well in Bbumbu. Our friend, Sister Salome, had been searching for the several days before our arrival to find a family that spoke English in the poor village of Bbumbu.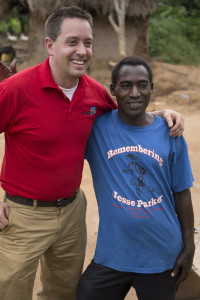 She was directed to Lamula's home. Sister Salome was warmly surprised when the father walked out of his mud home wearing a Jesse race shirt he had received a few years earlier. When Lamula's father first met Mike, he was gushing about how much he loved the boy on his shirt. Jesse's spirit was living because he cared about others. After a few minutes I was introduced as Jesse's mother, He grabbed my hand and warmly saying "his spirit lives with us". It was one of those moments I could feel Jesse's spirit alive in Africa.
Over the next few days, we had the joy of getting to know Lamula and her family a little better. Her father was injured and does not have steady work. Her mother raises a small tomato patch, selling tomatoes on her front lawn. During the dry season there is not enough water in the small pond near their home, so they must walk much farther to collect water. Often there is barely enough water for the family, so the tomato plants may die.
As the large well drilling trucks arrived, Lamula seemed frightened and then finally cheered with the other kids and families as they learned they would be bringing "mazzi", clean water. Each day as we visited the village to observe the trucks, Lamula would find me in the crowd. She learned I was Jesse's Mom and somehow, with her uncertain smile and strong little hand, she made me feel welcome. She would reach out her small, dirty hand to mine, and each time it seemed a much too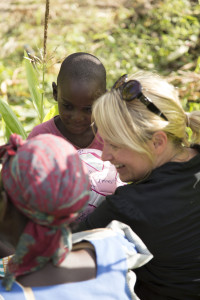 precious gift. A friendship we all felt blessed to receive.  Each of us on the team felt connected to this beautiful child of Bbumbu.
Over the next week each time we visited Bbumbu, we were greeted by a wave of smiling children eager to touch our hands or walk with us. As the parents walked by they would kneel, offer their hand, thanking us for bringing clean water for their children. Often they would say, "Thank you for loving us". A thought that has stayed with each of us long after our journey to Uganda. We soon began responding in kind to them. A gesture many of us have carried home to Tomah.
As the days progressed, our team gave Lamula a bright pick soccer ball and we laughed to see her kicking it along the dusty road with her friends. It was beautiful to see her run, laugh, and play just like our own kids would do with such a gift.
As the trucks drilled one afternoon, I sat on a small ditch watching the progress. Lamula sitting on my lap, her mother watching nearby. I was quickly surrounded by other mothers of Bbumbu wearing their tribal dresses. None spoke English, yet we laughed and carried on an animated conversation. Sometimes they would pinch my white skin or touch my blonde hair and giggle at the unusual sites. At on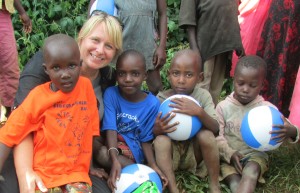 e point, a pipe broke creating a loud explosion and we all scrambled up the ditch. A few kids crawled right over me in their panic. They allowed me to experience their friendship, and the joy of these mothers who knew their children would soon have clean water. For one afternoon I was blessed and I got to be a mother of Bbumbu.
On our last day, we gave Lamula a new wheelbarrow and Jerry cans. Allowing she and her mother to fetch water more easily from the new well. The family will now have clean water, the ability to sustain their small tomato p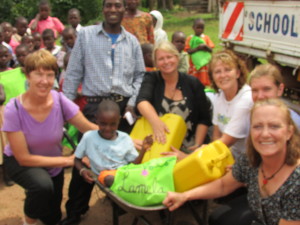 atch, to provide the much needed funds so Lamula can attend school.
For me it was a special blessing to meet Lamula and to spend a few moments as a mother of Bbumbu. Two years prior I had visited Bbumbu to survey for a new well. I did not have any funds, just a hope we could drill more wells. After traveling the long path to a dirty pond I returned to thank one of the village elders. He did not speak English and this tall majestic man knelt before me. I was embarrassed, asking Sister Salome to quickly explain I could not promise him water. She relayed hi
s response, "he understands. He is thanking you for thinking his people were worthy of water". I made a promise that day that when I returned to Uganda I would try with all my spirit to bring clean water to Bbumbu. With your help, you made a difference. You gave water to many worthy people, especially a beautiful four year old girl in a tattered pick dress. For Lamula, I say thank you for thinking she is worthy of clean water.
Special thanks to the Western Technical College Marketing Class of 2013 for raising over $5,600 for this well in Bbumbu. These amazing students understood the needs and committed to this project. They raised more funds than had ever been raised in a previous class fundraiser. Their efforts were matched by the Jesse Charity and local Rotary clubs. A beautiful gift to so many. Below is the plaque that is placed on the new well in Bbumbu.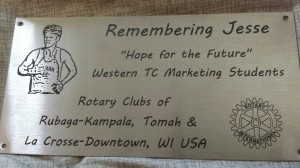 Interested in fundraising for a well of your own, with a group or club, contact us. We are always glad to partner so you can know exactly how your funds are making a difference for others.  Contact info